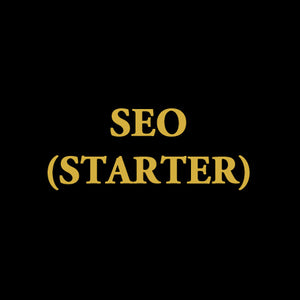 Search Engine Optimization helps direct potential clients that are already looking for your services/products to your website. This is of utmost importance when looking to scale your business. Inncelerator will do all the work on the back end to bring your websites selected Keywords on the 1st page of search engines to help direct more organic traffic to help you grow your business. 

SEO Starter is an optimal package for entry level companies to start off with 10 keywords and prepare to see the difference in traffic. 

Typically for SEO work to reflect it takes about 3 to 4 months but usually most of our clients begin to see their website slowly crawl up the ranking within 2 months. You will receive monthly reports to see the progress. 
Benefits of SEO Optimization (STARTER)

Better User Experience with related Content Marketing

Generates Leads, Visibility and Website Traffic

Increase in Conversion Rates

Increased Brand Credibility and Awareness

Increased Market Share

Gives you a Competitive Advantage
Inncelerator conducts its SEO process in two phases:
Phase 1:On-page SEO – Your website is reviewed and strategically analyzed by our team and technical fixes are implemented. This would allow Google crawlers to read/process your website well and make it eligible to get promoted
Phase 2: Off-page SEO – This process consists of "backlinking", which is done by a lot of off-page marketing activities such as: business listings, promotions etc. This gets you in good eyes of Google and in turn, your website gets promoted on the first page!

The charges mentioned above are for a monthly charge billed to you every 30 days. 

Below you can find a table of all the work that will be done on  your website: 

S.No

                       Parameters Covered

Phase 1:
a. Initial Review & Strategic Analysis

 

STARTER

10 KEYWORDS

1

Website Analysis

Yes

2

Extensive Keyword Research

Yes

3

Initial Backlinks Analysis

Yes

4

Content Duplicity Check

Yes

5

Competition Analysis

Yes

6

Initial Rankings Report

Yes

8

Website Indexing Check

Yes

9

Canonical Issue Check

Yes

10

Alexa Rank Check

Yes

11

Recommendations for the Website

Yes

12

Search Engine Caching Check

Yes

13

Domain Age Check

Yes

Phase 1:
b. On-Page Optimization

15

Google Analytics Account Set up

Yes

16

Google Webmaster Account Set up

Yes

17

Robots.txt

Yes

18

Sitemap.xml

Yes

19

URL Redirection- 301, 302 (by developer)

Yes

20

Desktop Page Speed Check

Yes

21

Mobile Page Speed Check

Yes

22

Fetch Sitemap.xml

Yes

23

Title Tags

Yes

24

Meta Description

Yes

25

Heading Tags

Yes

26

Alt Tags

Yes

27

Internal Linking

Yes

28

Broken Links

Yes

29

Content Optimization (paid)

Yes

30

URL Structure check

Yes

31

Mobile Friendly

Yes

32

Website Re-Audit 

Yes

Phase 1:
c. Content Marketing (per month)

33

Article Writing

1

34

Blog Writing

1

35

Press Release Writing 

No

36

Classified Writing

1

37

Infographic Creation

No

38

On Page Blog Writing

No

Phase 2: Off-Page Optimization (Per Month)

39

Profile Creation

5

40

Business Listing

3

41

PDF Submission

No

42

PPT Submission

No

43

Video Embedding (The video is to be provided by the client)

No

44

Micro Blogging

5

45

Social Bookmarking

10

46

Business Listing Promotion

10

47

Profile Creation Promotion

10

48

Article Promotion

10

49

Blog Promotion

10

50

Blog Commenting

No

51

Q&A

No

52

Reviews

No

53

Product Listing (E-Commerce)

No

54

Local Listing Promotion

10

Once you confirm your purchase, you will get an introductory email and a project manager will be assigned to your account. He/ She will then discuss with you to understand the general direction of your business and customize the work to your expectations.


Services will be rendered in the market your brand is based by default but can also be provided in a targeted location of your choice. 

For a customized package, please contact us on info@inncelerator.com