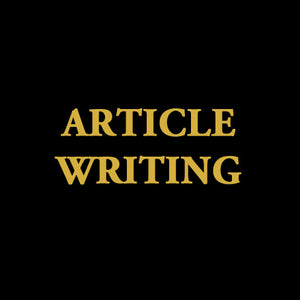 We will write an engaging Article for you to increase the organic traffic to your website. There are 2 levels of writers you can engage both of which will write an effective and engaging article after sufficient research with keyword inputs. This will be the most effective form of content marketing for your website. Article writing will be about 550 to 600 words each and will come with a plagiarism report and with 2 content revisions. 
There are 2 categories of writers for you to choose from: 
Starter
- A junior writer with min of 3 years of writing experience
Professional
- A senior writer with min of 6 years of writing experience

All article writing will need a minimum of 7 to 9 working days to be thoroughly researched, proof read and delivered with free revisions till you are satisfied. 

Once you confirm your purchase, you will get an introductory email and a project manager will be assigned to your account. He/ She will then have a discussion to understand the general direction of your business to customize the work to your expectations. You will need to prepare the following in return: 

- Topics, details and information you would like in your article
- the type of page content you would like us to write
- your preferred writing styles (formal or casual)
- any other additional information that will help us produce the type of content you expect. 

For a customized package or monthly retainers, please contact us at info@inncelerator.com