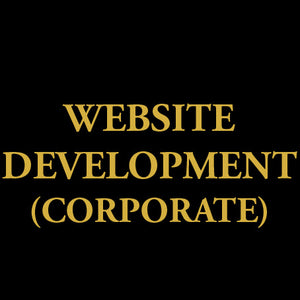 We will create and manage a Website for you.

Services that will be included: 




CORPORATE


Platform
Static with Admin Panel
Source Code
At extra charge
Number of pages
8
Optimized Header Tags
Yes
Meta Tags
Included: Up to 3 Pages

(Meta Title, Meta Description)
Social Media Integration
5

Banner Design (front page)
Yes (Total 5)
Online Shop Integration
Yes (Including Oddle/ Food Panda etc)

Custom payment gateway Integration (PayPal)
Yes

Pop Up  form
Yes

Reservation Functionality Integration
Yes
Manual to change the text & images
Text & Images

Website development corporate pack will deliver the sample draft within 7 working days and aim to deliver the complete website within 15 - 20 working days, with free revisions till you are satisfied. Do note that the speed of your feedback will affect final delivery times. 

The above mentioned are 1 time Set Up Charges
The above prices exclude: 
1.
Domain Charges - Should you already have one we can link the website. 
2.
Hosting Charges (S$ 180 annually)
3.      Monthly Maintenance Charges - S$ 105 if you would like us to maintain the                 website and provide updates to the website on a regular basis. 

Once you confirm your purchase, you will get an introductory email and a project manager will be assigned to your account. He/ She will then have a discussion to understand the generation direction of your business to customize the work to your expectations. You will need to prepare the following in return: 

- Logo, details and information you would like on the pages
- the type of page content you would like us to post
- your preferred color or themes 
- your expectations from the website and how you would like it to be managed
- any other additional information that will help us create the website as per your expectations

For a customized package, please contact us.